CBE Young Investigator Award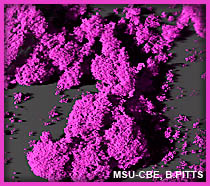 The CBE is pleased to continue its Young Investigator program to encourage the participation of outstanding non-MSU biofilm investigators at its annual Montana Biofilm Science & Technology Meeting.

Targeting postdoctoral researchers and newly hired faculty, up to two investigators will be invited to present research at the Montana Biofilm Meeting, provided a $750 travel reimbursement, and complimentary attendance to the meeting. The next meeting is July 14–16, 2020 in Bozeman, Montana.

Awardees will be chosen by the CBE Executive Committee based on research quality and relevance of the material to the CBE's mission, which is to advance fundamental interdisciplinary research and education related to the management of bacterial biofilms, and to transfer that knowledge to the realm of applied science and technology.
Abstract requirements:
Abstracts should be no longer than one (1) page (12-point font) and include presentation title and author names and affiliations.
Email submissions to: Paul Sturman CBE Industrial Coordinator
Deadline: Monday, April 20, 2020
_________________
Upcoming Montana Biofilm Meeting
July 14–16, 2020
Hilton Garden Inn
Bozeman, Montana
Sessions:
TBD
________________