Gerlach, Robin
Professor, Chemical & Biological Engineering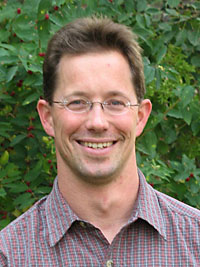 Office: 314 Cobleigh Building
Specialty: Environmental biotechnology and bioremediation
E-mail: robin_g@montana.edu
Robin Gerlach is a professor in the Department of Chemical and Biological Engineering in the College of Engineering at Montana State University-Bozeman (MSU).
He is affiliated with the Center for Biofilm Engineering, a graduated National Science Foundation Engineering Research Center, the Thermal Biology Institute, a multidisciplinary team of scientists studying the unique thermal environment within Yellowstone National Park, as well as the Molecular BioSciences Program at MSU.
Dr. Gerlach is also the director of the Environmental and Biofilm Mass Spectrometry Facility in the College of Engineering.
Selected publications:
Phillips, A.J., Cunningham, A.B., Gerlach, R., Hiebert, R., Hwang, C., Lomans, B.P., Westrich, J., Mantilla, C., Kirksey, J., Esposito, R., Spangler, L. (2016): Fracture Sealing with Microbially-Induced Calcium Carbonate Precipitation: A Field Study. Environmental Science and Technology. 50(7):4111–4117. DOI: 10.1021/acs.est.5b05559

Kern, J., Hise, A.M., Characklis, G.W., Gerlach R., Viamajala, S., Gardner, R.D. (2016): Using Life Cycle Assessment and Techno-Economic Analysis in a Real Options Framework to Inform the Design of Algal Biofuel Production Facilities. Bioresource Technology. 225: 418-428. DOI: j.biortech.2016.11.116

Bernstein, H.C.; Kesaano, M.; Moll, K.; Smith, T.; Gerlach, R.; Carlson, R.P.; Miller, C.D.; Peyton, B.M.; Cooksey, K.E.; Gardner, R.D.; Sims, R.C. (2014): Direct measurement and characterization of active photosynthesis zones inside wastewater remediating and biofuel producing microalgal biofilms. Bioresource Technology. 156:206–215. DOI:10.1016/j.biortech.2014.01.001

Brileya, K., Connolly, J.; Downey, C.; Gerlach, R.; Fields, M.W. (2013): Taxis Toward Hydrogen Gas by Methanococcus maripaludis. Nature Scientific Reports. 3:3140. DOI: 10.1038/srep03140

Connolly, J.; Kaufman, M.; Rothman, A.; Gupta, R.; Redden, G.; Schuster, M.; Colwell, F.; Gerlach, R. (2013): Construction of two ureolytic model organisms for the study of microbially induced calcium carbonate precipitation. Journal of Microbiological Methods. 94(3):290-299.

Taffs, R.; Aston, J.E.; Brileya, K.; Jay, Z.; Klatt, C.G.; McGlynn, S.; Mallette, N.; Montross, S.; Gerlach, R.; Inskeep, W.P.; Ward; D.M.; Carlson, R.P. (2009). In silico approaches to study mass and energy flows in microbial consortia: a syntrophic case study. BMC Systems Biology. 3:114. http://www.biomedcentral.com/1752-0509/3/114

Seymour, J.D.; Gage, J.P.; Codd, S.L.; Gerlach, R. (2007): Magnetic Resonance Microscopy of Biofouling Induced Scale Dependent Transport in Porous Media. Advances in Water Resources. 30(6-7):1408-1420. doi:10.1016/j.advwatres.2006.05.029
Additional biofilm related publications searchable at CBE Publications
Related News
Rural Montana teachers experience MSU research in summer program MSU News August 1, 2022
MSU researchers seek to optimize algae biomaterials production MSU News January 18, 2022
Yellowstone Public Radio features CBE project on sustainable concrete MSU News March 16, 2021
MSU receives $1.5 million for cutting-edge, versatile research equipment MSU News November 5, 2021
MSU researchers receive $500,000 grant to make fungus-based building material MSU News October 6, 2020
Three MSU research teams set to improve water quality with new funding MSU News February 19, 2020
MSU researchers ramp up $6 million project seeking solutions to biofilm corrosion MSU News January 31, 2020
MSU algae research could make biofuel production more economical MSU News Service February 12, 2019
MSU field tests push well-sealing technology closer to commercial application MSU News Service January 18, 2018
3D Printing Microbe Biofilms to Reduce Methane R&D Magazine October 31, 2017
MSU researchers receive $1.8 million to study methane-converting microbes MSU News Service October 18, 2017